High digital abandonment rates are typical for brands across domains; driven mainly by the experiential issues faced by the site users during their journey. Identification of these friction points can be burdensome for businesses as they struggle to digest the new wealth of granular data generated along their customers' digital journey.
Many teams are still basing many of their experience decisions on instinct which is certainly not the most optimal way of improving website design. With AIDE (Automated Insights for Digital Evolution), you can now capture every in-page interaction and micro-gesture to understand site user's journey to identify frustrations, and errors that impact conversion and self-serve rate. AIDE can enable businesses to troubleshoot faster to resolve issues and recover potential revenue and leads.
Confidently improve the digital experience
Don't let friction and errors spoil the experiences you have build for visitors. Leverage best-in-class AI/ML modules to identify struggle points and recommend changes to drive design improvements.
Legacy digital reporting platforms often are limited in understanding the consumer journey.
'Exits on the page' doesn't mean the customer faced friction on that page

Unable to trace back to the point of friction as consumer digital journeys are complex

Identifying the root cause of friction becomes challenging by using just the clickstream feed
What AIDE can do for you
Best in class AI-based suite of algorithms across different genres which ensures optimum results
AIDE helps you make smarter decisions at every step. AIDE uses AI and analytics to analyze millions of digital consumer touchpoints to provide you insights to increase revenue, engagement, and growth for your business.

It identifies the root cause of friction right from a call, chat, and website errors and uses AI to parse out key signals from all the unstructured data in the customer journey.

Get the most comprehensive insights into the digital journey to drive data-driven hypotheses for supporting A/B test to drive website design changes to improve the consumer experience.
AIDE features
Sensorize: An automated AI/ML pipeline to derive meaningful business indicators using the click activity across customer journeys.
Detect: Deviations from expected behavior across digital journeys get captured by applying pattern recognition algorithms to the key digital indicators.
Locate: A suite of supervised machine learning algorithms to identify drivers of key customer journey outcomes (drop-off, clear cart, etc.) and measure relative impact at a page & click level on a customer's experience.
Reveal: NLP module to perform sentiment analysis and entity extraction on the voice of customer data such as chat; feedback etc. to identify the root cause of the friction

and generate actionable insights.

Prioritize: Quantify the insights with respect to loss in revenue or incremental overhead costs to prioritize hypotheses for improving website design .
Our Thinking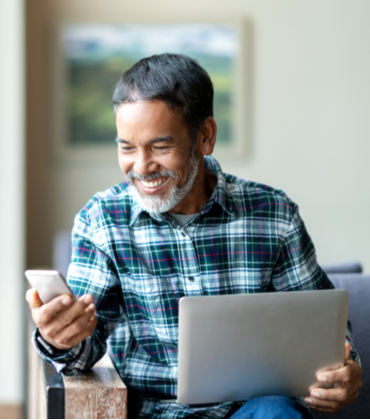 5 min. read
Removing friction from your digital banking experience
With thousands of customer transactions a day, there are multiple points of friction in industries like banking. Find how AIDE solution can identify these friction points & reduce them, helping business grow at scale.
Case Studies
5 min. read

How a tech major removed cognitive dissonance in buying journeys and created $1B in incremental CLV

A large telecommunication provider saw a continuous decline in the digital conversion rate. With Fractal's digital optimization platform AIDE (Automated Insights for Digital Evolution) it helped to get over $1Bn in CLV with reduced friction on the digital journey.

6 min. read

Sweeten the buyer journey for your customers

Fractal developed and deployed an innovative patent pending technology called AIDE to uncover the reasons for dissonance and enable operationalization. Download our latest case study to learn how it resulted in significant turn-around results of the digital-first buying journey.
AIDE for your business
AIDE is a smart digital solution for a broad range of industries including retail, finance & insurance, telecommunications, tech, media, and more. AIDE uses customizable, open-source AI that works well with the complex journeys, data security, and time to market needs for multiple industries. It's an insight "orchestrated platform supported by natural language generated insights.
It selects the sales or service flow to influence particular focus points
It identifies the select data domains to create a journey sensor
It then goes to detect the most important anomalies across key performance indicators
Does a journey analysis to locate friction on the website
Finds the friction point on the website using various journey sensors
Voice of customer analysis to add contexts to insights